La Pierrée,
Cuxac-Cabardes, Southern France


---
Holiday Home for Rent in Southern France
Location: Cuxac-Cabardes, 20 KM North of Carcassonne, France
Accommodations: Private House - 3 Bedrooms - 1 Bath - (Sleeps 6)
La Pierrée
Welcome to La Pierrée, a renovated village house in the medieval Montagne Noire town of Cuxac-Cabardes.
Although the exact age of the house is unknown, it dates to the mid-1600ís when houses were built with thick stone walls. It has just been renovated, many of the walls have been exposed to show the original construction, and the original stone sink still rests in the windowsill of the living room next to a large fireplace. The house is on a small street (Rue de l'Eglise) that provides a quaint and romantic setting for a French village holiday.
Rue de l'eglise
Cuxac-Cabardes
Cuxac-Cabardes is a small village in the Montagne Noire, 20 minutes from Carcassonne. It is a good location to enjoy the city of Carcassonne and the surrounding villages that are home to Cathar castles, wineries, and artisans making paper and furniture. The Montagne Noire has many natural areas for walking and horseback riding. Cuxac is within an hour's drive of Spain, the Pyrenees, and the Mediterranean.
Cuxac has all the basic services including a post office, grocery store, bakery, deli, pharmacy, doctor and dentist. Parking is available within 50 meters of the house.
Living Room
Dining Room and Kitchen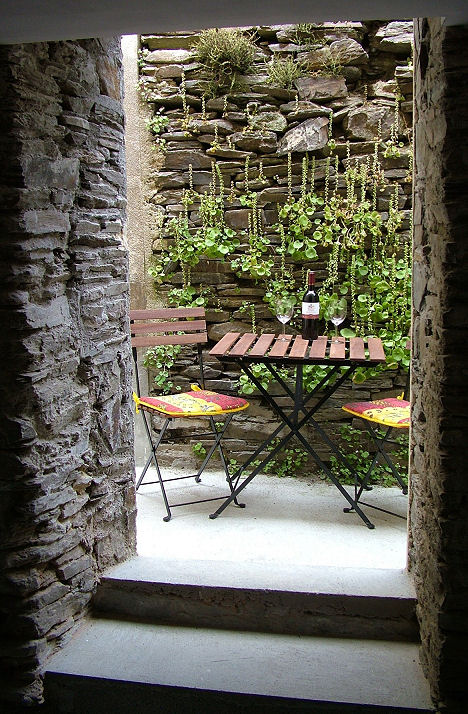 Private Courtyard
The house has one large room on the main floor with the kitchen, dining and living areas. There is a TV (French stations) and a CD player. The kitchen has an electric stove and oven, a dishwasher, a coffee maker, a toaster and a teapot. The large monastery dining table provides ample space to enjoy your meals. The ground floor also has a WC, a large cave, and a small courtyard for sitting outdoors to enjoy a morning coffee or an evening aperitif. Three bedrooms upstairs accommodate six people; one room has a queen bed, one has a double bed and one has two twin beds. The bathroom includes a toilet, shower and sink. There is also a clothes washing machine.
For more information about the area, or to check rates and availability, follow the links below:
Master Bedroom
Bedroom